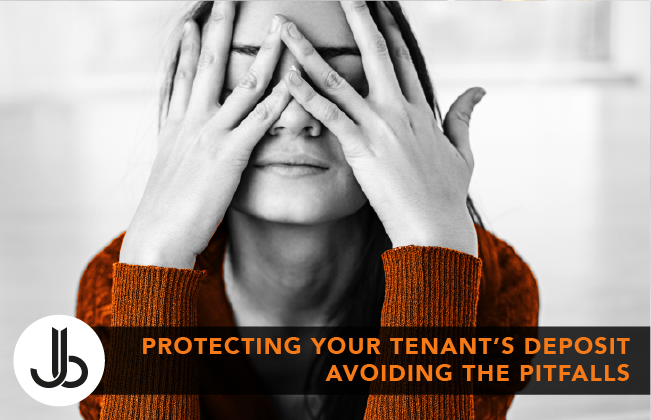 Protecting Your Tenant's Deposit: Avoiding the Pitfalls
In the world of landlord and tenant relationships, one crucial aspect often overlooked is the protection of a tenant's deposit. It's not just about safeguarding your tenant's hard-earned money; it's also about ensuring you, as a landlord, comply with the law. Failure to do so can lead to costly consequences. In this article, we will explore the rules on protecting a tenant's deposit in England and what happens when it's not properly protected.
How to Avoid Breaching Deposit Protection Rules
Understand the Basics of Deposit Protection | First and foremost, landlords should grasp the fundamentals of deposit protection. The rules for protecting a tenant's deposit are primarily governed by the Housing Act 2004 and the associated regulations, including the Tenancy Deposit Protection (TDP) Scheme. Here are the key rules and requirements:

Mandatory Deposit Protection:

Landlords are legally required to protect a tenant's deposit in a government-approved tenancy deposit protection scheme within 30 days of receiving it.

Prescribed Information:

Along with protecting the deposit, landlords must provide the tenant with prescribed information. This includes details about the deposit protection scheme being used, how the deposit is handled, and the terms of the tenancy.

Deposit Cap:

As of March 6, 2020, there is a cap on tenancy deposits in England. Landlords are generally not allowed to take a deposit exceeding the equivalent of five weeks' rent if the annual rent is less than £50,000.

Returning the Deposit:

At the end of the tenancy, landlords must return the deposit within 10 days of both parties agreeing on how much will be returned. If there is a dispute, the deposit remains protected in the scheme until the issue is resolved.

Deductions and Disputes:

If there are deductions to be made from the deposit for damage, unpaid rent, or other breaches of the tenancy agreement, landlords must provide an itemised list of deductions to the tenant. If the tenant disagrees with these deductions, they can raise a dispute with the deposit protection scheme used.

Penalties for Non-Compliance:

Failure to protect the deposit and provide the prescribed information can result in financial penalties for the landlord. This can amount to up to three times the deposit amount.

Section 21 Notices:

Landlords who have not protected the deposit or provided the prescribed information cannot serve a Section 21 notice to regain possession of the property until they comply with the deposit protection requirements.

Changes in Tenancy:

If there is a change in the tenancy, such as a renewal or the start of a new fixed-term tenancy, the landlord must reprotect the deposit and provide updated prescribed information to the tenant.

Record Keeping:

Landlords should maintain records related to the deposit protection and prescribed information for at least two years after the end of the tenancy.

Failure to do so can result in severe penalties. In fact, according to data from the Ministry of Housing, Communities & Local Government, landlords faced over £1 million in fines in 2020 for not protecting deposits properly.

Provide Detailed Documentation | Ensure you provide your tenant with comprehensive documentation related to their deposit. This should include a deposit protection certificate, prescribed information, and the terms of the deposit scheme being used. Clear and transparent communication is essential to avoid disputes down the line.
Regularly Inspect the Property | Conduct thorough property inspections at the beginning and end of the tenancy. Document the condition of the property with photographs and detailed reports. This will help in case you need to make deductions from the deposit for damages.
Communicate Effectively with Your Tenant | Open and effective communication with your tenant is key. Inform them about any deductions from their deposit and provide a breakdown of costs. This transparency can prevent disputes and foster a positive landlord-tenant relationship.
Seek Legal Advice When in Doubt | If you're unsure about the intricacies of deposit protection rules or face a dispute with your tenant, don't hesitate to seek legal advice. It's far better to consult a solicitor early on to prevent potential legal troubles down the road.
Why You Need a Solicitor to Defend You in Deposit Disputes
Legal Expertise | Deposit protection regulations can be complex, and they're subject to change. Solicitors specialising in landlord and tenant law are well-versed in these regulations and can provide guidance tailored to your specific situation. Research by the Tenancy Deposit Scheme (TDS) shows that deposit disputes are increasing, with 39% more disputes in 2020 compared to the previous year.
Negotiation Skills | A skilled solicitor can negotiate on your behalf to reach an amicable resolution with your tenant, avoiding costly and time-consuming court proceedings.
Court Representation | If a dispute escalates to court, having a solicitor by your side can be invaluable. They will represent your interests, present a compelling case, and ensure you adhere to legal procedures.
Minimise Financial Impact | A solicitor can help you minimise financial losses by ensuring that any deductions from the deposit are legally sound and justifiable. They can also guide you on avoiding unnecessary expenses, such as court costs.
Peace of Mind | Engaging a solicitor in deposit-related matters provides peace of mind. You can focus on your life while knowing that a legal expert is handling the complexities of the law on your behalf.
In conclusion, protecting a tenant's deposit is not just a legal obligation but also a crucial aspect of maintaining a positive landlord-tenant relationship. Breaching these rules can lead to severe penalties and costly disputes. By following our tips and enlisting the help of a solicitor when needed, you can navigate the complexities of deposit protection with confidence.
If you find yourself in a deposit dispute or simply need advice on landlord and tenant matters, do not hesitate to get in touch with Johnson & Boon Solicitors. Our experienced team is here to assist you. Call us at 0151 637 2034 or email us at info@johnsonandboon.co.uk. Your peace of mind is just a call or email away.