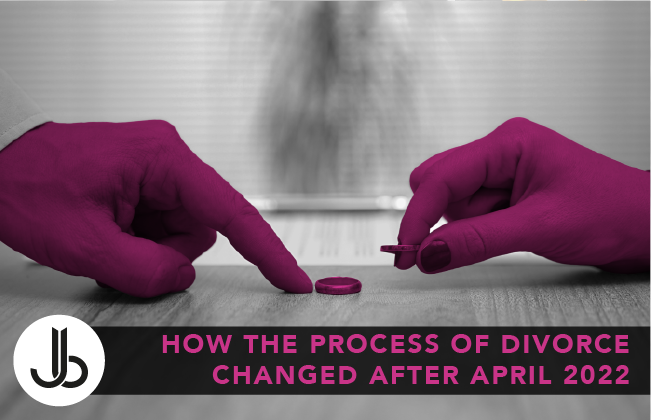 How the process of Divorce changed after April 2022
There were significant changes to the divorce rules in England and Wales which came into effect from April 2022. These changes were made in order to streamline the divorce process and make it easier for couples to end their marriage. Here are the key differences between the UK divorce rules pre and post April 2022.
Pre-April 2022, one of the parties had to prove that the marriage had irretrievably broken down by providing one of five facts: adultery, unreasonable behaviour, desertion, two years of separation with consent or five years of separation without consent. Post-April 2022, the requirement for the spouse to provide evidence to support one of the five facts has been replaced by a statement of irretrievable breakdown of marriage, which can be made jointly by both spouses or by one of them.
Previously, the parties had to wait for a minimum of two years of separation or five years of separation (without consent) before they could start the divorce proceedings. However, after the change in the law, the waiting period has been reduced to six months.
The option of contesting a divorce is no longer available post-April 2022. If one spouse opposes the divorce, the court will consider the reasons for the opposition, but the divorce itself will not be contested.
The changes in the law have also removed the ability to apply for a divorce based on the other party's behavior, but instead, they can make an application based on the fact that they find it intolerable to live with their partner.
The final change that has come into effect since April 2022 is the new requirement for a minimum 20 week waiting period from the time the divorce petition is filed to when the court can issue a Conditional Order (the first stage of the divorce proceedings).
Now that you have a good understanding of the changes that have come into effect, here are five tips that can help if you find yourself facing a divorce.
Communication: It is essential to communicate with your partner and try to come to an agreement on the terms of the divorce as this can save both parties time and money.
Legal advice: Seek the advice of a divorce solicitor, who can guide you through the legal process, help you understand your options and ensure that your interests are protected.
Financial planning: Prepare a budget and understand your financial situation post-divorce. A divorce can have a significant impact on your finances, so it is essential to plan for the future.
Take care of your mental health: Divorce can be a stressful and emotional process, so it is important to take care of your mental health during this time. Consider seeking professional support if you are struggling.
Prioritise the children: If you have children, their well-being should be the priority. Try to work out an agreement that works in their best interests and provides for their emotional and financial needs.
If you find yourself facing a divorce, it is essential to seek legal advice and communicate with your partner. Prioritising your mental health and the well-being of your children is also crucial during this time.
How can we help?
If you find yourself facing a divorce and would like some advise on the matter please get in touch with our team of experts by emailing info@johnsonandboon.co.uk, calling 0151 637 2034 or by booking an appointment through our free mobile app, available to download on both Apple and Android app stores.