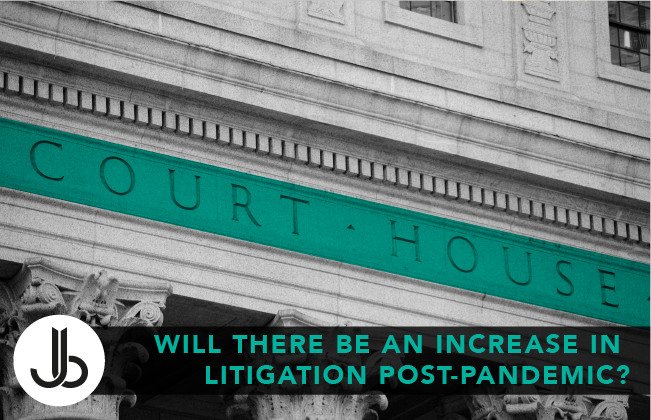 Will there be an increase in litigation post-pandemic?
Will the release of lockdown lead to a surge of litigation and if so what should you be doing now to protect your position?
The UK civil Courts receive over 2 million claims per year. That is excluding the cases dealt with by the family Courts and Tribunals.
Over the various lockdown periods that the UK has endured over the past 14 months, many individuals and businesses have held off from commencing Court proceedings. It appears however, inevitable that those disputes parties have not yet resolved, will become litigated in the coming months.
A recent survey reported that 59% of companies expect to see an increase in litigation and 14% anticipate that the increase may be serious enough to affect their ability to continue trading.
There were various factors which led to individuals and businesses holding off in engaging in litigation during the pandemic, including a lack of time whilst focusing on other things and a general desire to hold off during difficult times. But it is anticipated that this position is likely to change over the coming months as the UK is released from lockdown restrictions and so people should be considering now what steps they need to take in readiness.
---
Below are our five tips:
Review disputes that you are involved in.
How strong is your case?
What evidence do you have in support of your position?
Is there further evidence that you need to gather?
What do you want to achieve?
Can the dispute be settled?
Negotiating a settlement is always better having the uncertainty of going to Court. Can your dispute be settled and if so, what steps do you need to take to open the lines of communication?
What is the value of the dispute?
 It is important to remember that there are three tracks within the civil Court process in the UK. These are the Small Claims Track, the Fast Track, and the Multi-track.
Any dispute with a value over £10,000.00 will usually be allowed to the Fast Track and any dispute with a value over £25,000.00 will usually be allocated to the multi-track. There are exceptions to this rule, for example if a claim is brought using the Part 8 procedure (e.g. a Tenancy Deposit Dispute) that claim is automatically allocated to the multi-track claim despite its value.
This is an important consideration because if the other party instructions solicitors and the claim is anything other than a small claim, you will usually be ordered to pay their solicitors fees if they are successful. This possibility needs to form part of your risk analysis when deciding how to proceed.
Are there any statutory limitation periods for you to be aware of?
A claimant must bring their claim within the statutory limitation period failing which they are then time barred from doing so. Courts can provide permission for claims to be brought outside of time, but that permission is hard to obtain.
If you intend to bring a claim, you need to be careful not to delay for so long that your right to pursue it expires.
Seek professional help.
Speaking to a solicitor before there are the time pressure of deadlines within litigation can be really helpful. Not only will the solicitor assist you in considering the above four points, but they will advise you in relation to the relevant law, timescales and costs that you would incur in going to Trial. The solicitor should then be able to assist you in early and proactive negotiations to hopefully avoid litigation all together, save time and save legal costs. We provide such advice during initial telephone consultations which costs just £50 + VAT. During the telephone consultation, a member of our team will discuss the dispute with you in detail and provide advice as to your prospects of success, hurdles to overcome, steps that should be taken to strengthen your position and how best to proceed.
---
To book a consultation, contact our team today.
Telephone – 0151 637 2034
Email – info@johnsonandboon.co.uk