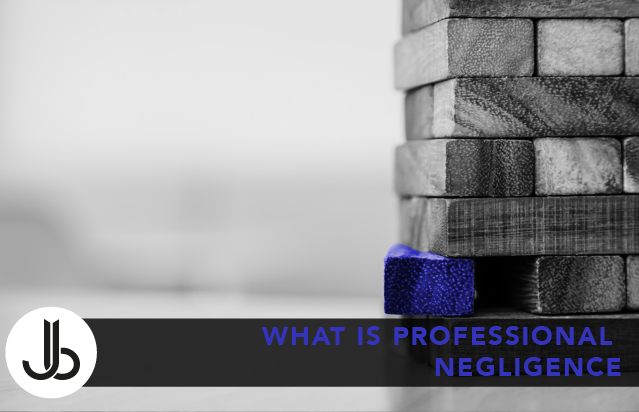 What is Professional Negligence?
Professional negligence occurs when a professional advisor fails to perform their responsibilities to the standard of a reasonably competent person in their profession. If when the professional makes a mistake and their client suffers a loss which result from that mistake, the client has the option to bring a claim to recover the loss.
Poor service is different from professional negligence and usually occurs due to a lack of communication or slow progress. This does not meet the standard for professional negligence and is very unlikely to result in ant right to bring a claim.  This sort of issue is usually dealt with by way of a compliant.
Common examples of professional negligence which could give rise to a claim could be:
An accountant who advised incorrectly regarding tax;
A solicitor settling a personal injury claim for less than its correct value
A financial advisor recommending an unsuitable mortgage product
A surveyor who failed to identify structural problems
For a professional negligence claim to be successfully brought, a Claimant would need to establish several things. Firstly, they would need to be able to demonstrate that they were owed a duty of care by the professional. If established, they would then need to show that the professional breached that duty of care. Finally, they would need to evidence that as a result of that breach the Claimant suffered a loss.
These claims can be complex and difficult to prove. They are often strongly defended by the professional and their insurers. If someone is contemplating bringing a claim, they should first seek expert advice.
That advice will determine what the prospects of success will be if the Claimant proceeds and will ensure that the claim is presented correctly.
Below are some of the questions that potential Claimants frequently have.
---
FAQs:
How long would it take to make a claim?
Depending upon the complexity of a case and whether or not it is to be defended, a claim could take anywhere from a few months to a few years. Many cases can however be settled within a relatively short space of time through negotiation and Court proceedings should be a last resort.
How long do I have to start a claim?
Generally, a claimant has six years to bring a claim from the cause of action.
The Limitation Act 1980 sets out the six year time-frame. The six-year period starts on the date that the cause of action occurs.
Sometimes however, the Claimant might be unaware that they have suffered damage until after the expiry of the six-year period. To meet this problem there is a provision within The Limitation Act 1980 that provides a secondary limitation period. This allows a claim to be brought within three years of the date the Claimant had knowledge of the negligence.
The knowledge could be either actual or constructive. Constructive knowledge means knowledge that you reasonably ought to have known.
How are damages assessed?
The aim of damages for professional negligence is to put the Claimant back to the position they would have been in if the professional was not negligent.
Advice on quantum will always be provided by the specialist assisting the Claimant in brining the claim.
How will the professional pay my claim if I am successful?
Most professionals are required to have professional indemnity insurance in place which would pay out in the event of a successful claim.
Do I have to pay for representation?
Provided that we believe that your case has reasonable prospects, we can offer to act on a No Win No Fee basis.
To book an initial consultation call 0151 637 2034 or email info@johnsonandboon.co.uk