When issues develop within families it can be a particularly difficult and emotive time. Wirral Solicitors Johnson and Boon understand this and provide clear legal advice with a sensitive and empathetic approach.
Divorce
It is never easy when a marriage breaks down and there will be a variety of issues for the parties to deal with. Expert advice will be required in order to allow the parties to resolve these issues. Johnson and Boon divorce solicitors can provide this advice in sensitive, professional and practical manner.
From our initial divorce consultation onwards our expert team will seek to lessen your stress and progress matters smoothly towards a conclusion.
Marriage is a legal contract and when ending this you need to ensure that you have received adequate advice to allow you to make informed decisions about a variety of issues.
Divorce will end legal duties and responsibilities arising out of marriage. All assets will be divided. This again requires expert advice to make sure that you receive the correct financial settlement.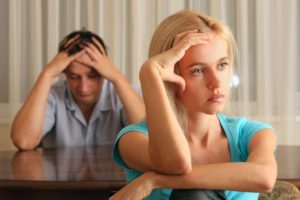 Frequently Asked Questions
What do I need to satisfy to get divorced?
The person starting the proceedings must be able to prove that the marriage has irretrievably broken down by establishing one of the following five facts. The five facts are Adultery, Unreasonable behavior, Desertion, 2 years separation with consent, 5 years separation (no consent required).
Do I have to pay a fee to the Court?
Yes, there is a fee payable to the Court to commence the proceedings. This is presently £550.00. This is separate from any fees that the parties incur by instructing a solicitor.
How long do you have to be separated before you can get a divorce?
You can apply for a divorce if you have lived apart for more than two years and you both agree to the divorce.
You can apply for a divorce if you have lived apart for at least 5 years. In this instance both parties do not have to agree.
What are my rights if I have been deserted?
If your husband/wife has left you without your agreement, without a good reason or to end your relationship for a period of more than 2 years in the past 2.5 years, you can apply for a Divorce.
You can still claim desertion if you have lived together for up to a total of 6 months in this period.
What would satisfy as unreasonable behavior?
This could include a range of acts such as physical violence, verbal abuse such as insults or threats, drunkenness or drug-taking or refusing to pay for housekeeping.
Can I apply for a divorce due to adultery which happen a long time ago?
You are unable to give adultery as a reason if you have lived together as a couple for a period of 6 months after you found out about the adultery.
What if your husband/wife lacks mental capacity?
You can apply for a divorce if your husband/wife lacks mental capacity however they will need someone to make decisions for them during the divorce proceedings. This person is called a litigation friend. It can be a family member, close friend or someone else who can represent them and assist them with the process.
If there is no one suitable or willing to be their litigation friend, you can apply to the court to have one appointed.
 Financial Orders / Ancillary Relief
Financial arrangements in divorce can often become a complicated lengthy process. It is therefore essential that you receive in-depth expert advice to ensure that the outcome achieved is right for you.
When considering financial settlements the Court will have regard to the following factors:
The income earning capacity and other financial resources which each of the parties has or is likely to have in the foreseeable future.
The financial needs, obligations and responsibilities each of the parties has or is likely to have in the foreseeable future.
The standard of living endured by the family before the breakdown of the marriage.
The age of each party and the duration of the marriage.
Any physical or mental disability of the parties.
The contributions which each of the parties has made or is likely to make in the foreseeable future to the welfare of the family.
The conduct of the parties if that conduct is such that it would be inequitable to disregard it.
Our expert solicitors will guide you through the process to ensure that the financial settlement achieved represents the very best outcome for you.
Matters relating to Children
Issues concerning children present parents, family and the courts with some of the most difficult decisions to make. The Children Act 1989 is the main piece of legislation to be considered. The team at Johnson and Boon solicitor offer access to reliable and practical advice to assist you with a variety of issues concerning children.
Common issues include:
Child Arrangements – who a child lives with and how much time they spend with the other parent including the type and nature of the contact to be allowed.
Issues as to how to prevent a parent from doing something (prohibited steps order).
Issues requiring someone to do something (specific issue order).
Issues relating to parental responsibility.
Issues relating to the relocation of Children either abroad or to another area of the country.
For advice in relation to any of these issues or any other issue relating to Children, contact a member of our team.
Civil Partnerships
Civil partnerships are the legally recognised union of two people of the same sex.  Couples who enter into a civil partnership have the rights to the same legal treatment across a range of issues as a married couple would expect.
A Civil partnership can be brought to an end by way of dissolution. The parties will need to obtain a Dissolution Order from the court. The Dissolution Order cancels all legal duties and responsibilities of the civil partnership and essentially ends the legal contract between the parties.
If you require advice in relation to the dissolution of a Civil partnership contact a member of our team for a free, no obligation initial meeting.
Non-molestation Orders
Non-molestation orders are civil court orders which protect victims of domestic violence. The Order will provide protection to the victim from violence, threats and harassment. The Order also carries the power of arrest and the penalty for breaking the order can carry a sentence of up to five years in prison.
If you require advice or assistance in relation to obtaining a non-molestation Order contact a member of our team today for a free, no obligation confidential discussion.